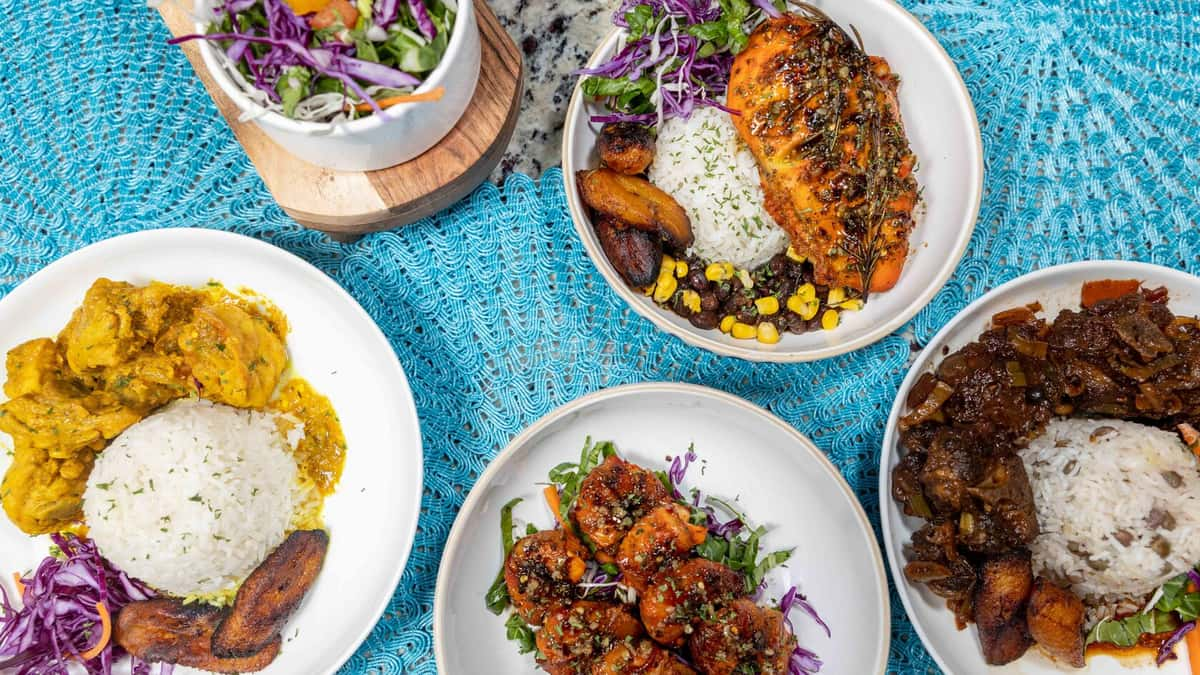 SHOPHOUSEOFGYPSY.COM LAUNCH 11.11.21
SHOPHOUSEOFGYPSY.COM LAUNCH 11.11.21
When Beyonce' said " I got hot sauce in my bag swag" We FELT THAT!! 😃😝
ROLL CALL!!!😝
Where are all the home makers, home and professional chefs, foodies, at?!
WELL! We are excited to announce the LAUNCH of our sister store, House Of Gypsy, our kitchen + home brand.
Featuring an array of items and products for the kitchen and home in general.
In the spotlight for the launch is 3 of our cult-fave sauces that we already use in house at our Jamaican Restaurant in West End Atlanta.
Starting with our signature Jerk sauce, which has a kick of spice to it, sweet and tangy a perfect tropical taste/addition to some of your favorite dishes, from using it as a dip or slathering it on as a sauce for grilled chicken, & meats, bbq chicken and meats, wings, sandwiches, as a condiment for french fries...and the list goes on...
Now, lets get into our slappin, and when we say slappin we mean SLAPPIN Seafood Butter Sauce!! Lets talk about FLAVOR! OMG!😱 Such a velvety, rich buttery taste, infused with bold garlic flavor, herbs and spices. Its amazing on grilled or oven/pan roasted salmon, when melted its heaven for crab legs, on veggies its a WIN WIN with any dish really... its addictive if your a HEAVY WITH THE GARLIC BUTTER SAUCE LOVER like us😜 !
And Last but definitely not least! Our spicy habanero, pickled onion + carrot relish, AKA ESCOVITCHED SAUCE... Who loves freshly fried, escovitched, Caribbean Red Snapper ⁇
Well its traditionally used in Jamaica, to top fried fish and seafood. Its just the right amount of spicy! Can also be used as a "Hot Sauce Substitute" on pretty much any dish...
But it doesnt stop there!...House Of Gypsy also carries little treasures like one of a kind gem and marble coasters, velvety throw pillows, one of a kind aprons, candles, sage, gem stones, salt lamps and a mix of everything in between, ....oh lets not forget the highly anticipated COOKBOOK, simply titled "TASTE", this is the cheatsheet for pulling off divine dishes, snacks and treats, hosting tips and tricks, which features a variety of different cuisines from different cultures, techniques, stories, cocktails and mocktails, a complete guide on how to WOW the socks off folks, From the BEST CURRY CHICKEN to the cheesiest Mac & Cheese, Korean BBQ to Vegan Eats, You'll definitely have a win with your new stellar cooking and hosting skills! oh and listen, Its gets better....
Even if you have no knowledge of cooking, you can learn in as little as 1 recipe, this easy to follow cookbook is FUN & easy as 1,2,3!...Now, LETS GET COOKING! Ciao!